Dear Family, Friends, and Benevolent Strangers,
We hope this year-end report finds you happy, healthy, and enjoying a restful and restorative season with loved ones. Back by popular demand are photo captions in a super-squinty font and tons of awkward hyphenations–thanks, WordPress! We space this out a bit by using Large Capitalized Headings in a bold blue color. Are they all Posed As Questions? You betcha! Let's get right to it!
What's New at School?
The boys both advanced to new classrooms at the Montessori school this year. Zach is now in 1st grade, along with the 2nd and 3rd graders in his Lower Elementary class. Zach has the same wonderful teacher that Max had for the last three years and he's made a great adjustment.
Max is now in 4th grade, along with the 5th and 6th graders in his Upper Elementary class. Max was dismayed to learn that he will now have regular homework and occasional tests, but he's managed to cope. He's learning good work habits, taking responsibility for remembering and completing his homework, and loves his teachers. He especially enjoys math (solving equations using algebra) and reading (discussing classic and contemporary literature), as illustrated below.
What Else Has Max Been Up To?
Max earned his red belt in karate this year. Next up: black belt! He's continuing weapons training (with enthusiasm) and sparring (with great reluctance).
In addition to being a voracious reader and dangerous with at least three weapons, Max enjoys soccer, chess, computer games, foosball, bowling, and inventing imaginative new games. Like his dad, he loves throwing things (darts, archery), and is highly competitive.
How About Zach?
Zach learned to ride a bike, participated in soccer through the township, joined the chess club at school, and enjoys reading funny stories. His major passion right now is art. He enjoys a weekly art lesson and spends most of his free time creating highly detailed Pokemon-style or playing cards, along with many other kinds of drawings.
Zach loves football. His impressive memory for football rules, game scores, and statistics will prepare him well to play fantasy football one day. This year, Zach helped his dad make game picks for the season-long bet with his grandfather. They expect to win the bet before this weekend is over, in fact.
Don't the Boys Ever Do Stuff Together?
Why yes they do! They can be found most weekend mornings deep in a game of Monopoly, Life, chess, or some elaborate new game they've created involving Pokemon cards, stuffed animals, and/or a catapult. Zach began Folkshul (our Jewish secular humanist Hebrew school*) this year, so they now both attend on Sunday mornings. And of course they love spending time after school, and on days off, with Janet (our Jewish secular humanist child-care worker*). I can't find any good pictures of these activities, but shown below are a few others that I'm trying to shoehorn into this holiday letter.
*Yes, that's a thing.
Throughout most of the year, Zach has been dressed as Charizard (which Bulbapedia, the community-driven Pokemon encyclopedia, describes as "a draconic, bipedal Pokemon") and Max has been dressed as a ninja (for which Bulbapedia has 29 entries that I invite you to browse at your leisure). On Halloween, the boys dressed in something pretty ordinary, I can't recall what. I feel like I should fact-check the details on this item, but I'm pressed for time. You can probably figure things out from the photos below.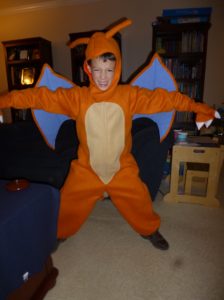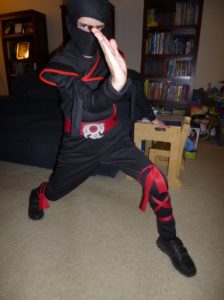 Over the summer, the boys spent lots of time at the pool. Max attended a summer camp and Zach went to a series of art workshops. They topped last year's records for the summer reading program at the library, which is no small feat. Each boy spent several days vacationing in Maryland with grandparents (John's mom and dad). Our family gathered with Ayelet's side of the family (all 16 of us!) at a beautiful house in Deep Creek Lake, Maryland.
Anything Going on With Ayelet or John?
Ayelet is continuing her clinical research as well as graduate and undergraduate teaching and advising. This year she was invited to write a paper for the premier clinical psychology review journal, invited to give an address at a major psychology conference, and recruited to serve on several college-level committees — all suggesting that, without quite realizing it, she has transitioned from junior faculty member to mid-career psychologist.
Ayelet has finally found a form of exercise she can tolerate. Zach is also a big fan of Zumba and is the #1 collaborator and cheerleader for mom's exercise routine.
John remains employed, writing things for people and saying things to other people on a regularly scheduled basis. He also continues to exercise and hasn't missed a day of walking for more than 2,500 days, which combines for a total of more than 25,000 miles and 7 Excel worksheets. When moving at a slower pace, he enjoys his aquarium and guitar hobbies as much as his time and household budget allow.
On December 5, Ayelet and John celebrated 25 years together. They've come a long way since that first date, waiting for the MBTA Route 70 bus to take them from Central Square, Waltham to the Ground Round!
Any Final Thoughts?
We hope that you and your loved ones have either a joyful holiday season or a very merry Christmas–your choice!–and a wonderful new year!